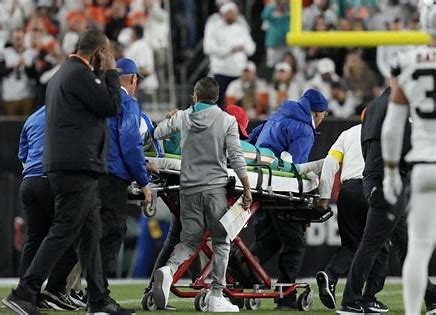 On Thursday night, Miami Dolphins quarterback Tua Tagovailoa was carried out on a stretcher.
Coach Mike McDaniel: "It was scary." "He's being treated for a concussion. He was hospitalised. He's probably getting out soon. "
The league union will investigate the Dolphins' concussion evaluation protocol after Tagovailoa returned to the game against the Bills on Sept. 25.
The Dolphins initially thought Tagovailoa had a head injury, but McDaniel claimed he hurt his back. He confirmed that Thursday night.
NFL concussion definition
The NFL defines a concussion as a biomechanically-induced TBI.
Concussions can be induced by direct impacts to the head, face, neck, or anywhere else on the body, the league warns.
Loss of consciousness, seizures, delayed movement, motor or balance coordination problems, a vacant stare, holding the head, bewilderment, forgetfulness, or apparent facial injuries are concussion symptoms.
Before each season, players must get a baseline neurological evaluation. Every three years, tests may be computerized, pencil-and-paper, or both. A concussed player may undergo more examinations.
Dolphins' answer angers viewers.
Many who witnessed the game said Tagovailoa shouldn't have been authorised to play Thursday.
According to Robert Griffin III, life is bigger than football. "Teams should prioritise people above players." Health first. Tua's safety isn't the only concern. It affects the living quality. " Read our other blogs